A Chinese company participates in providing services to the Arbaeen pilgrims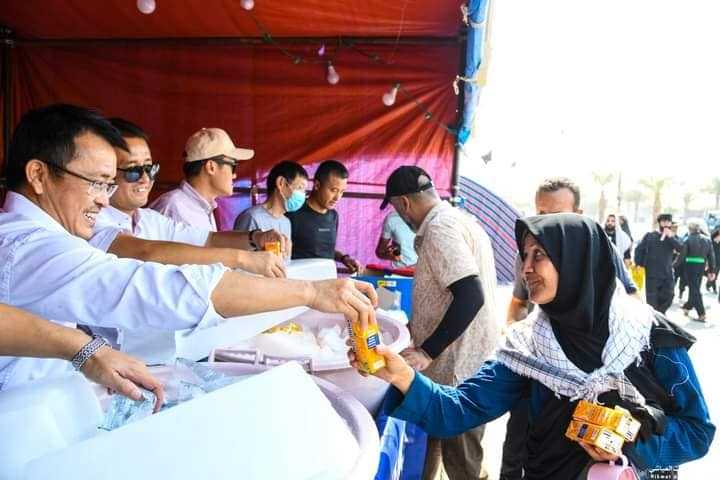 A group of Chinese expatriates working in the Power China Company participated in providing services to pilgrims coming to the holy city of Karbala in commemoration of the Arbaeen of Imam Hussein, peace be upon him.
Yank Hank Shu, one of the Chinese participants, said in a statement to the International Media Center, "We are a Chinese company working on the completion of schools in Karbala. Since the beginning of this massive pilgrimage, we have participated in providing services to the pilgrims coming to this beautiful city, and we are participating for the first time, and what surprised me is the great momentum of pilgrims."
Shu added, "We provide Iraqi food and drinks with the help of some local friends working with us, as we learned how to prepare these foods and serve them to incoming pilgrims."
"The Iraqis have proven that Imam Hussein (peace be upon him) is not for Muslims only but for the whole world, and we now see Hussein for all of humanity, as whoever offers himself for freedom and renounces injustice and corruption cannot be limited to a particular sect or religion," said Shu.
Engineer Leon Bank said, "I am not a Muslim, but the story of Hussein, this great revolutionary, and from the information I gathered through reading his biography, I have a great motivation to participate with this large crowd."
Bank explained the nature of their participation, saying, "We are working in Karbala in order to complete a complex of schools, so we decided to participate in serving the pilgrims of Imam Hussein and providing them with food and drink through the Mawkib of the People's Republic of China," confirming that they will continue their service until the last days of the pilgrimage."
Abbas Najim
Photographed by: Hikmat al-Ayashi