Blackburn football club hosts Eid prayers on pitch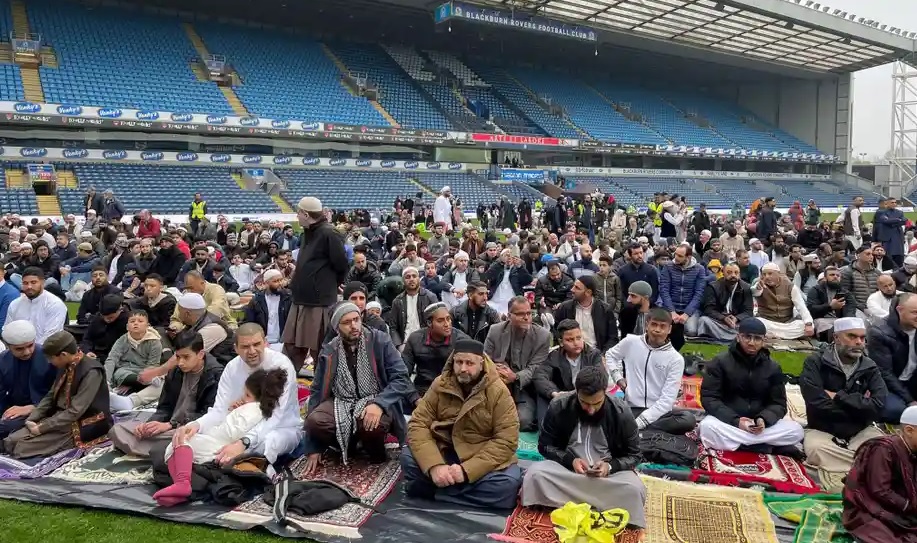 Hundreds of people congregated at Ewood Park to mark the end of the holy month of Ramadan. Aerial footage tweeted by the club showed about half the pitch covered with prayer mats and a sermon being delivered.
A message from the club read: "Eid Mubarak from everyone at Blackburn Rovers. This morning #Rovers became the first football club in the country to host Eid prayers on the pitch."
"Eid for Muslims is something very special, gathering all the relatives together," a Muslim man said, describing how happy he was to see so many people at the stadium.
Dozens of social media users congratulated Blackburn for hosting the event. "This is actually quite amazing," said one. "Well done to all involved – pretty special for a little town called Blackburn. Hope other clubs follow where there's a need."
Another said: "Proud to be a Rover. Eid Mubarak."
Eid prayers were held at sites around the country on Tuesday morning. In Birmingham, an estimated 30,000 people gathered at Small Heath Park, while about 20,000 people congregated at Platt Fields Park in Manchester.