India's first gate in honor of Karbala's martyrs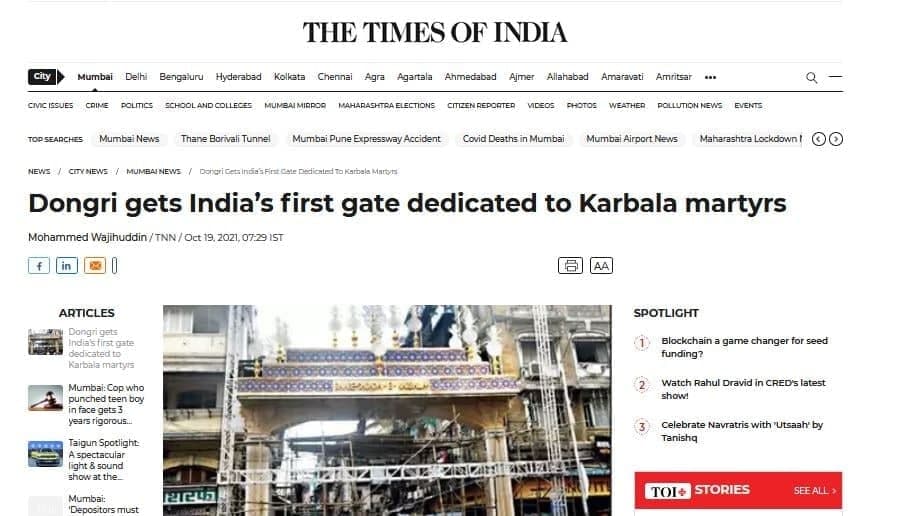 The Times of India newspaper said on its website that Dongri, south of Mumbai in India, witnessed the installation of gate in the name of Shohda-e-Karbala, meaning 'The Martyrs of Karbala', in honor and commemoration of Imam Hussain's loyal companions, peace be upon them, who sacrificed their lives on the day of Ashura.
According to what was reported by the newspaper, "The busy Hazrat Abbas Street in Dongri has added another jewel to its crown – the Baab-e-Shohda-Karbala – India's first gate commemorating the martyrs of Karbala."
It added that "this is the first Indian gate dedicated to the martyrs of Karbala, and it is 28 feet high and 31.5 feet wide," noting that "the area will turn, thanks to the establishment of this symbol, into a special place of mourning that is expected to be crowded with hundreds of Shia Muslims during religious occasions."
The newspaper pointed out that "the locals in Dongri have long been demanding that a gate be installed on the main street in the area, and in order to honor the symbols of the Husseini revolution."
For eight months, artisans in Makrana hand-carved Jaisalmer stones to prepare the pillar and slabs, in addition to Italian marble and pearls.