Egypt-based Arab Calligraphers Syndicate grants a calligrapher from Al-Abbas Holy Shrine a license in Arabic calligraphy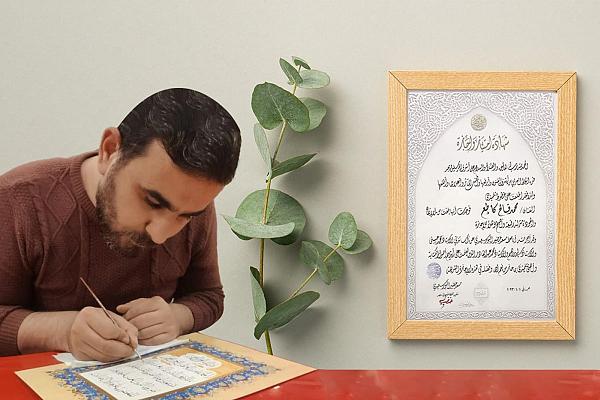 The calligrapher at the Al-Kafeel Center for Advertising and Marketing of the Al-Abbas Holy Shrine, Muhammad Faleh, obtained a license in Arabic calligraphy from the head of Arab Calligraphers.
Calligrapher Muhammad Faleh said, "I obtained a license in Arabic calligraphy from the head of the Arab Calligraphers Syndicate in the Arab Republic of Egypt, by following the lines of prominent calligraphers, until I was able to learn a few of their secrets and presented them to Mr. Massad Khudair Al-Borsaidi. He granted me this license, and this is my third international license."
Faleh added, "Granting licenses in Arabic calligraphy is an approach known to calligraphers in the past and still is, in order to preserve the strength of Arabic calligraphy, and to achieve the calligrapher's eligibility and entitlement to teach this authentic art."
He added that granting written licenses is an encouragement to take care of Arabic calligraphy and its rules and to exert more attention, so that the new generation follows the approach of its teachers in ensuring the establishment of the original rules of Arabic calligraphy by preserving the spirit and rules of calligraphy.