Bangladeshi diplomats submit proposal to Imam Ali Holy Shrine to include books on the life of Imam Ali in Bangladesh's school curricula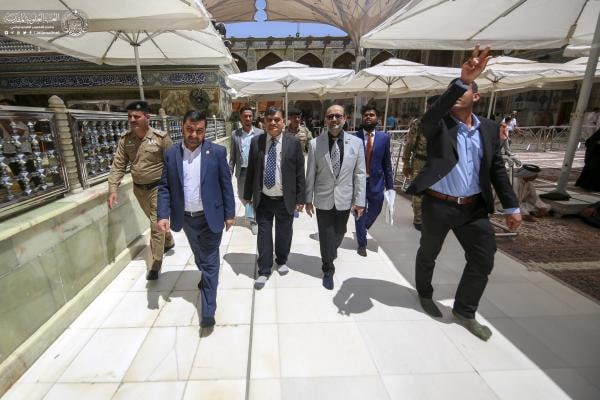 The Ambassador of the Republic of Bangladesh to Iraq and Egypt, Messrs. Amadi Fadloul Bari, and Mr. Muhammad Munir al-Islam, had the honor of visiting the Imam Ali Holy Shrine and performing the ceremonies of the visitation.
The Assistant Head of the Public Relations Department, Salam al-Jubouri, said in a statement: "The archaeological and historical monuments at the holy shrine were explained to the ambassadors of the People's Republic of Bangladesh, and the two diplomats expressed their admiration for these blessed monuments, with praise and appreciation for the services provided to pilgrims."
He added: "The Bangladeshi diplomatic delegation also expressed readiness for cultural cooperation with the Holy Shrine in all fields, and they thanked and appreciated the kind reception and hospitality, while the department took the initiative to present ideological publications on the life of the Commander of the Faithful, peace be upon him."
Al-Jubouri continued, "The diplomatic delegation submitted a proposal to the Holy Shrine, that books and publications on the life of Imam Ali, peace be upon him, be submitted to be included in the school curricula in the People's Republic of Bangladesh."