World Hijab Day: An open invitation for women around the world to wear the Islamic veil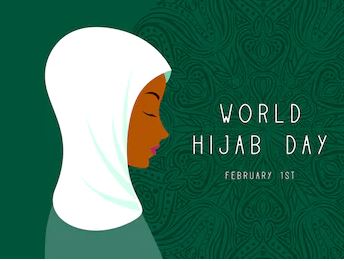 116 countries celebrate the World Hijab Day on February 1, which aims to raise awareness about the veil and promote religious tolerance, while Muslim women around the world suffer various forms of discrimination due to it throughout the year.
The Bangladeshi-born American girl (Nazma Khan) was subjected to many forms of discrimination because of her hijab, which prompted her to launch the idea of World Hijab Day in 2013.
Through this day, Khan hopes to spread religious tolerance and acceptance of the other, so she has been calling on all women every year for about 10 years to wear the veil on this day in light of broad solidarity on social networking sites from people representing different cultures, religions and ethnicities.
"I want to invite all women into our lives for just one day so that they can understand Muslim women a little," Khan said in a press statement.
A girl named Diallo published pictures of herself during the hijab experiment and commented, "I want to wear it all my life, I don't know what's holding me back."
She expressed her happiness to participate in the campaign and said, "I am proud to support World Hijab Day 2022 in solidarity with Muslim girls who face discrimination around the world."